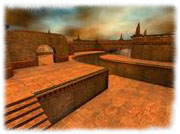 Ich halte zwar immer noch nicht meine Quake 4 DVD in Händen (herzlichen Dank an CD-WOW), aber eine gute Nachricht lässt mich auch noch ein paar Tage länger geduldig warten:
The future of RA4 looks bright!
Das macht Hoffnung! :-) Desweiteren hört man überall, dass der Singleplayer-Modus von Quake 4 ganz anders, neu und toll sein soll, der Multiplayer-Modus allerdings leider kaum neues bieten und fast identisch zu Quake 3 Arena sein soll. Für mich kein Kontra sondern ein dickes fettes Pro!