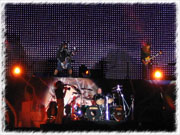 Gestern war ich endlich mal wieder auf einem Metallica-Konzert bei Rock im Park in Nürnberg. HAMMERSHOW, SUPERGEIL! Schon den Abend vorher war die Vorfreude kaum noch zu ertragen, vor allem nachdem ich mir die Rock am Ring Show, die live bei MTV übertragen wurde, angeschaut habe. Die Show einen Tag später in Nürnberg war fast identisch, perfekt! Nur drei Lieder wurden variiert.
Als spezielle Überraschung wurde zum 20ten Geburtstag von "Master of Puppets" das komplette Album, also alle 8 Stücke in Originalreihenfolge gespielt, wow! Dazu noch "Creeping Death", "Fuel", "The God That Failed", "Wherever I May Roam", "Sad But True", "One, "Enter Sandman", "So What" und als Rauswerfer "Seek & Destroy".
Hat sich mal wieder gelohnt und Metallica hat auch bewiesen, dass sie nach all den Jahren wirklich noch richtig Bock an Liveauftritten haben.