Auf nach South Australia! Gestern haben wir den Tag noch an der Great Ocean Road verbracht, diese allerdings dann Abends auf dem Weg ins Nachtquartier in Portland verlassen.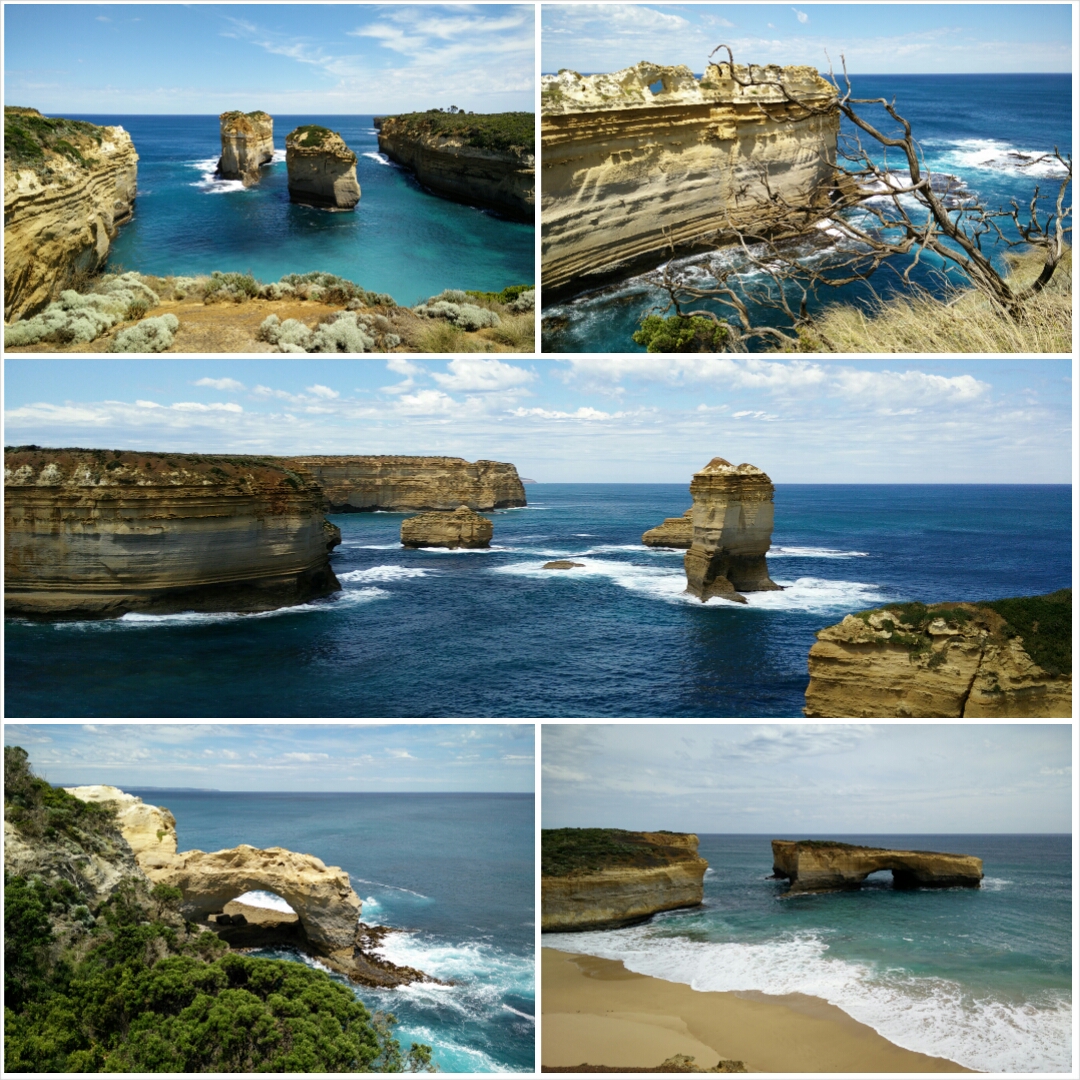 Neben den Twelve Apostles gibt es an der Great Ocean Road noch einige weitere Highlights zu sehen, wie man auf dem Bild erkennen kann. Traumhaft, gestern auch vom Wetter, obwohl es in den Morgenstunden noch leicht geregnet hat und komplett bedeckt war. Knapp 30 Grad hatten wir wohl. Glücklicherweise weiterhin ohne Sonnenbrand. ;-) Hätten noch einige Lookouts mehr anfahren und v.a. anwandern können, wegen den Kids war das aber nicht möglich oder hätte viel Zeit gekostet. Alle Highlights haben wir gesehen oder kurz alleine angeschaut. Port Campbell sieht tagsüber sogar ganz nett aus, hat einen deutlich besseren Eindruck hinterlassen als vor acht Jahren als unser allererster Roadtripstopp während eines Australienurlaubs. Ansonsten war die Küste dort der Hammer. Zurecht eines der Highlights von Australien für Besucher. Freuen uns nun aber auch wieder auf beschaulichere Gegenden. Gerade deswegen war dort viel los. Viele Europäer und v.a. Asiaten.
Tauchen ist hier mal wieder ne absolute Katastrophe. Selbst in Melbourne nur Trips zu guten Tauchplätzen am Wochenende. Da waren wir schon weg, nämlich hier. Hier hat der Tauchladen geschlossen, war eben nur zufällig jemand da. Also keine Flasche und Blei leihen können für einen kurzen Tauchgang vom Land aus… Gestern in Port Campbell war jemand von Strand tauchen, bzw sah eher so aus, als ob er sich ertränkt hat, aber wo er sein Zeugs her hatte, keine Ahnung. Einen Tauchladen gibt es dort auch nicht. Der Reiseführer (Lonely Planet) erzählt nur immer vom Tauchen, schweigt sich aber über den praktischen Teil aus. Kein Tauchgang für mich also in Victoria. Und in Mount Gambier wird das Trauerspiel wohl weitergehen. Sehr bekannte Süßwasserseen aber kein Tauchladen zum Zeugs leihen… In New South Wales die Küste runter hatte ich das Thema auch schon in der Jervis Bay. "Yes, we dive with sand tiger sharks and sea lions. But not today or tomorrow, maybe this or next weekend." Hoffe nun auf Adelaide, Eyre Peninsula und dann natürlich Western Australia.
Giovanna und Tobias sind eben das letzte Mal beim Aldi – nochmal eindecken. ;-) In South und Western Australia gibt es bisher keinen Aldi. Leider. Viele günstige und gute Sachen gibt es dort, das Sortiment ist aber natürlich komplett anders als in Deutschland.
(23.11. 11:54)