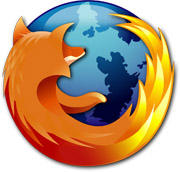 Habe hier schon zweimal meine aktuellen Addons für Firefox aufgelistet. Hier der dritte Anlauf – alle Addons für meinen Firefox 3.0.5 – es hat sich doch einiges getan. Die Liste wurde ganz bequem und ohne Stress mit dem Addon "Extension List Dumper" erstellt.
Neben vielen nützlichen Tools, die einem als Internetsurfer (Anwender) das Leben erleichtern finden sich auch diverse Addons, die einem als Webseitenersteller bzw. -designer das Leben ziemlich erleichtern.
Adblock Plus [de] 1.0.1
Werbung war gestern!
Adblock Plus: Element Hiding Helper [de] 1.0.5
Hilft beim Erstellen von Regeln für Adblock Plus zum Verstecken von Elementen
Check4Change 1.6
Periodically checks for changes within a webpage.
ColorZilla 2.0
Erweiterte Pipette, ColorPicker, Farb-Palette, Seiten-Zoom und andere Tools für die Informationen aus Webseiten anzuzeigen
Cooliris 1.9.1
Cooliris (formerly PicLens) transforms your browser into a full-screen 3D Wall for searching, viewing and sharing the Web.
Deutsches Wörterbuch (de-DE) [de] 1.0.1
Deutsches Wörterbuch (neue Rechtschreibung) für die eingebaute Rechtschreibprüfung
DOM Inspector 2.0.1
Inspects the structure and properties of a window and its contents.
Extended Statusbar 1.5.3
A Statusbar with speed, percentage, time and loaded size (similar to Opera's one).
Extension List Dumper 1.14.1
Gibt eine Liste aller installierten Erweiterungen aus
Firebug 1.3.0
Web Development Evolved.
FireGestures 1.1.6
Führt verschiedene Aktionen mit Hilfe von Mausgesten aus
FireShot 0.65
Machen Sie Screenshots von ganzen Webseiten, die Sie dann bearbeiten und speichern (JPEG, GIF, PNG, BMP), drucken, in die Zwischenablage schieben, an externe Bearbeitungsprogramme oder E-Mail-Empfänger senden können. Zusätzliche Kommentar-Tools (Text, Freihandzeichnung, Highlightings) ermöglichen eine schnelle und einfache Art, die Captures zu dokumentieren.
Google Toolbar for Firefox 5.0.20080919Wb1
Nutzen Sie die Möglichkeiten von Google überall im Internet.
Html Validator 0.8.5.2
Adds HTML validation to the View Page Source of the browser. The validation is done by Tidy or a SGML Parser from W3c.
IE Tab 1.5.20081203
Wahlweise die Browser-Engine des Internet Explorers benutzen
Launchy [de] 4.2.1
Öffnen von Web- und E-Mail-Links in externen Anwendungen und Editoren wie Internet Explorer, Opera, Outlook etc.
Perspectives 2.1.5
A secure way to verify encrypted websites and bypass security warnings
printpdf 0.75
Print web pages to PDF
ScrapBook 1.3.3.9
Archivierung von Webseiten und Anlegen von Notizen in einer Sidebar mit vielfältigen Verwaltungs- und Bearbeitungsmöglichkeiten.
SearchStatus 1.27
Display the Google PageRank and Alexa ranking with search-related tools.
SeoQuake 2.1.14
Quick view of site parameters in the search engine results pages.
SeoQuake Plugin – Del.icio.us 1.0.2
SeoQuake Plugin – Technorati.com 1.0.1
Sitzungs-Manager 0.6.3.2
Sichert den Zustand aller Fenster und stellt ihn wieder her.
Tab Mix Plus 0.3.7.3
Eine Vielzahl zusätzlicher Einstellungsmöglichkeiten für das Tabbed-Browsing
URL Link 2.02.3
Fügt markierte Textbausteine als URL in die Adresszeile ein
User Agent Switcher 0.6.11
Adds a menu and a toolbar button to switch the user agent of the browser.
Web Developer [de] 1.1.6
Stellt zahlreiche Werkzeuge für Web-Entwickler bereit.
wmlbrowser 0.7.18
WML(Wireless Markup Language)-Inhalte anzeigen.